Goober Pea Designs hasn't yet designed any pants patterns, and the main reason for that is because there are so many awesome ones out there already! Some of my favorites are even free, like the Plain Pants from Duck Butt Designs, or the Halla Leggings from Halla (please note, you will need a code from their facebook groups to get those patterns for free).
Did you know? You can easily add the Sadie Skirt from Goober Pea Designs to any pair of knit leggings/pants/shorts that has a stretchy knit waistband! Here's how to do it:
Choose the pants size per the pattern's size chart. Cut the pant legs.
Find the width measurement of the waistband (either by measuring the pattern piece or checking the cut chart, if the pattern has one).
Go to page 18 of the Sadie Skirt tutorial and find the size with a waistband closest in size to the pants waistband (does not need to be exactly the same). This is the size of Sadie Skirt that you will cut. The waistband can be cut to the Sadie measurements or the pants pattern measurements - either will work just fine! IMPORTANT: If the rise on your leggings pattern is on the lower side, you may want to remove some length from your Sadie Skirt. It is drafted to be knee length when worn at the natural waist, above the belly button.
Construct your pant legs and waistband as per usual, then add in the sadie skirt before attaching the waistband, as shown below (further details below pictures).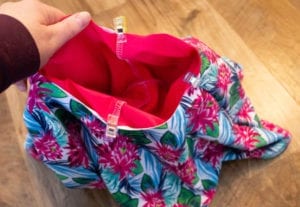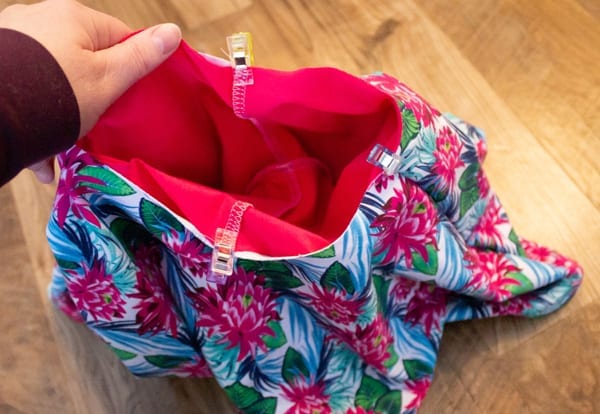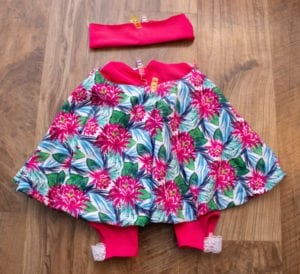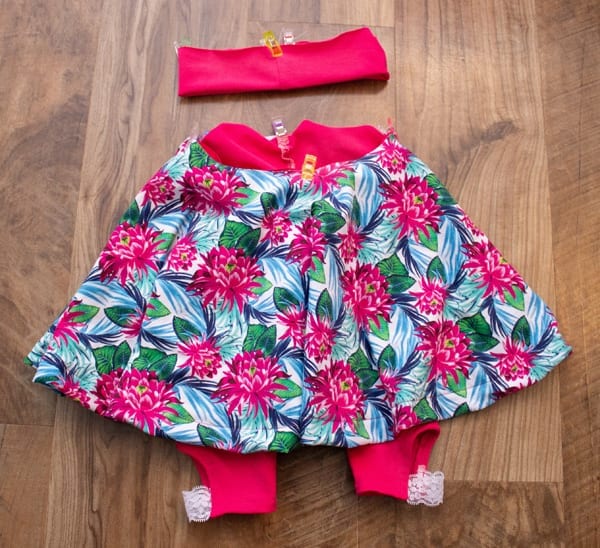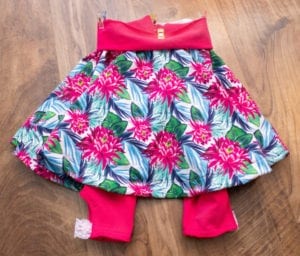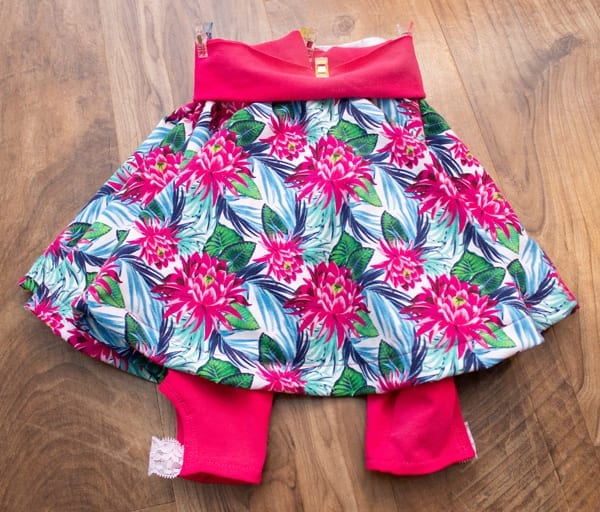 Please note: waistbands are often sewn with the pants INSIDE OUT, and the waistband pinned/clipped to the inside (right side) of the waist. In this case, because it will be hard to tuck the skirt inside of the pants and out of the way, you will want to put the pant legs RIGHT SIDE OUT, with the skirt on top as shown, and then the waistband pinned/clipped to the OUTSIDE of the skirt/pants, sandwiching the skirt in between the waistband and pants.
Remember to divide the waistband and pants/skirt evenly into quarters (exactly the same way you would if sewing just the skirt or just pants) and stretch the waistband gently as you sew, to match the size of the waist.
And how cute is the finished result?!? The leggings I used for this one are the Ballet Leggings by A Sparkly Baby Patterns - unfortunately this pattern has now been retired. The gorgeous summer print cotton lycra fabric is up for preorder until April 22 2019 at Sew Lovely Fabrics Canada.