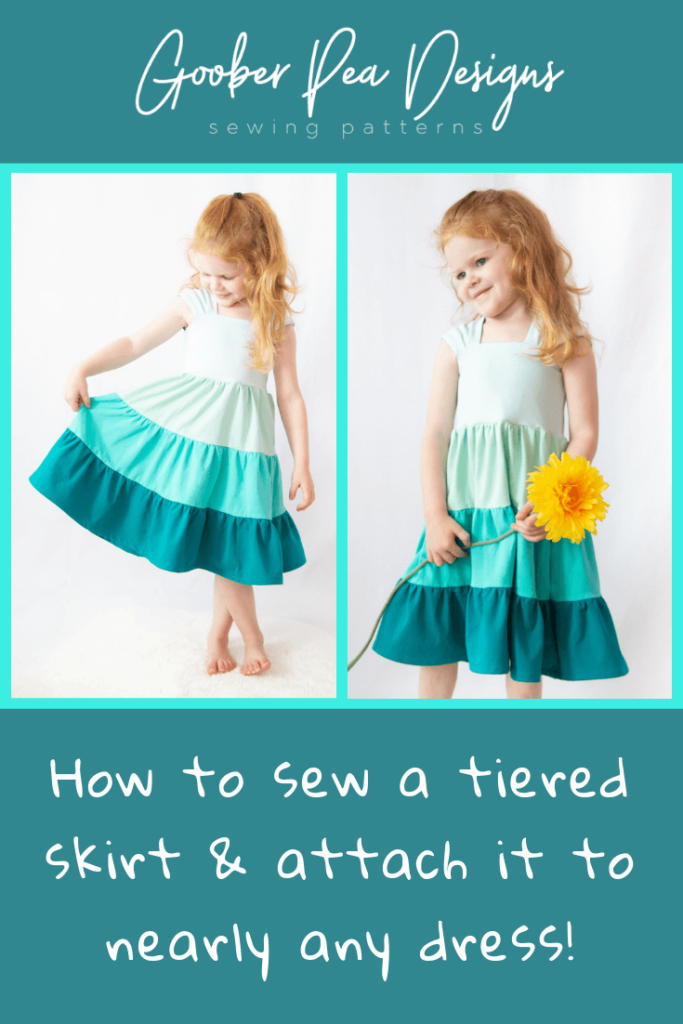 ***UPDATE: If you don't want to do the calculations, we now offer a FREE sewing pattern for a dress with a tiered skirt, which you can mash with the Reverie or pretty much any other bodice with a seam at the natural waist! Check out the Talia Tiered Dress.***
When I was organizing my fabrics recently, I saw these shades of green/teal together and thought, how awesome would a tiered dress be in these fabrics, creating an ombre effect! I decided to use the Reverie Dress for it, with the pleated shoulder strap hack. It turned out amazing, and I wanted to share with you the steps to make a tiered skirt.
For a dress that already has a gathered skirt (like the Reverie), a tiered skirt is a very easy modification to make. And with one extra calculation, they can easily be added to ANY bodice at the waist!!
Here are the steps to calculate your skirt tier dimensions, from an existing gathered skirt pattern:
Start with the original skirt dimensions (measure your pattern piece, if the pattern does not have the dimensions listed). EXAMPLE: 10″ wide by 13.5″ high
Deduct your seam/hem allowance from the skirt height (seam allowance at top, and hem allowance at bottom). EXAMPLE: deduct 1/2″ seam allowance and 1″ hem allowance, to get 12″ height
Divide the adjusted height into the number of tiers you want to have. EXAMPLE: 12″ height divided into 3 tiers = 4″ height for each
First tier width stays the same. Add minimum 50% width to subsequent tiers. For extra gathering, double the width. EXAMPLE: Tier 1, 10″ wide. Tier 2, add 50%, 15″ wide. Tier 3, add 50%, 22.5″ wide.
Add seam allowance back in – on top and bottom of each piece, except on the bottom tier you will add hem allowance to the bottom. EXAMPLE: Tier 1, 5″ high/10″ wide. Tier 2, 5″ high/15″ wide. Tier 3, 5.5″ high/22.5″ wide
If you are working with a dress/bodice that doesn't already have a gathered skirt to measure, here's how you would get your starting dimensions:
Measure your dress/bodice width at the waist. Add 50% (or more – if you want lots of gathering, double it) to this number to get your tier 1 width.
Measure the original dress skirt from waist to hem and use this number as your starting height. ***If you are attaching your skirt to a top, measure the body of the intended wearer from natural waist to desired hem length. In this case, you do not need to deduct seam/hem allowance, proceed with the other calculations listed above, for a regular gathered skirt.
Once you've got your measurements, simply cut your pieces, and gather each tier to the width of the one above it (start at the bottom and work your way up), then sew them together. Next, sew your side seams to form the full skirt. Then gather the top of the skirt to the circumference of the bodice waist, and sew them together, and you're done!!
I love tiered skirts, they are so twirly and full, and the ombre effect is simply spectacular!!`