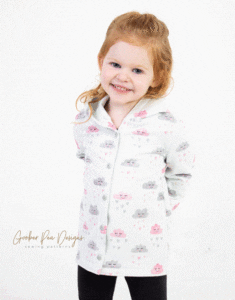 This hack is for the standard Campbell Jacket (pattern now retired) with snaps, buttons, or velcro. Save on fabric and make a cute light jacket from just a single layer! I suggest sizing down the width (size blending to the correct height size if necessary) if making it from stretchy knit fabric.
Step 1 - add hem allowance to the pieces along the front and bottom edges - you want a total of 1.5" allowance for snaps or small buttons, or 2" allowance for velcro or large buttons. Since there is already a 3/8" seam allowance included, you will be adding 1 1/8" for snaps or small buttons, or 1 5/8" for velcro or large buttons.
The sleeve hem allowance can be whatever you prefer, it does not need to be the same as the other edges.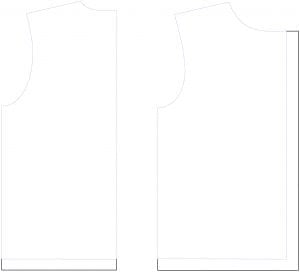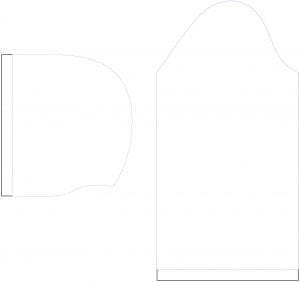 Step 2 - Cut your pieces - 1 back on fold, 2 front (mirrored), 2 hood (mirrored), and 2 sleeves (mirrored)
Step 3 - Sew the jacket together using the steps from the main tutorial, just doing one layer instead of two. Since your seams will be exposed on the inside, you will want to finish them with a serger or zig zag stitch, especially if using woven fabric which will fray. For knit fabric you could leave the edges raw, but it will look nicer to finish them.
Step 4 - If you are using a stretchy fabric, apply a strip of fusible interfacing to the front jacket edges - 3/4" wide if you are doing snaps/small buttons, or 1" wide if you are doing large buttons (interfacing is not necessary for velcro). (Please note, I serged my edges before applying interfacing because they were curling and this helped them lay flat - it is not necessary to finish the edges as they will be fully enclosed)
Step 5 - Using 3/4" increments for snaps/small buttons or 1" increments for velcro/large buttons, fold and press your front edges twice. Then unfold it and do the same along the bottom edge. Once done, you will have press lines that create a square in the corner.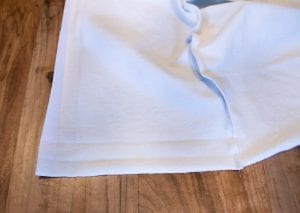 Step 6 - using a ruler draw a diagonal line through the corners of the square as shown, then cut along that line.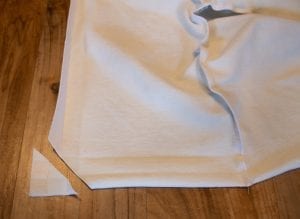 Step 7 - Re-fold the original edges once, then fold the diagonal edges right on the inner corner of the press-line square. Press the diagonal fold.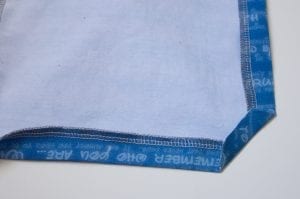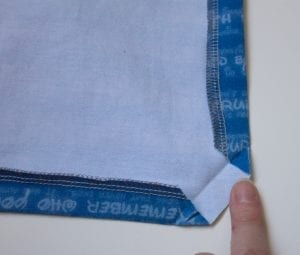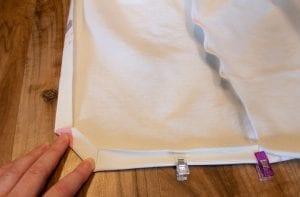 Step 8 - Now re-fold again on the original fold/press lines, and your corners should match up perfectly.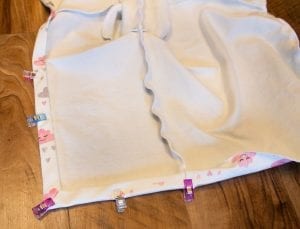 Step 9 - Fold/press and pin or clip around the rest of the edges (bottom hem, front edge/hood), then sew the edges, pivoting at the corner. Take it slow when sewing over the seams as they will be thick. A walking foot will help. Use a long straight stitch (3) for knit fabric and be careful not to stretch as you sew. I prefer to sew from the front, feeling for the folded edge underneath to make sure I'm sewing through all the layers.
Step 10. Use a ladder stitch (check out a video on YouTube if you are unfamiliar with this technique) by hand to close the opening at the inside corner. Then hem your sleeves, apply your snaps and/or buttons, and you're done!
OPTIONAL: Do a second row of topstitching close to the edge.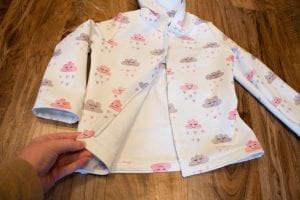 And done! A quick easy sew, but still nice and cozy when using thicker fabrics like fleece, minky, or french terry! And great in lighter fabrics for a light jacket too.