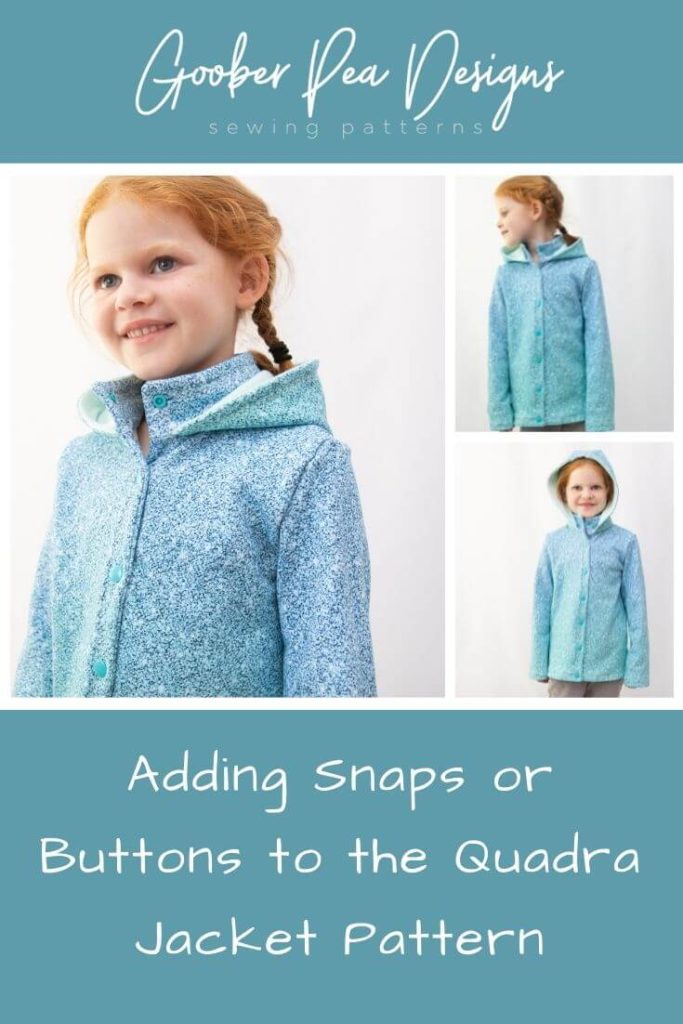 The beautiful ombre faux glitter fabric featured in this blog post is available for preorder in many different fabrics bases at Button and Bibs Fabric until July 11, 2021.
I used the Heavy Weight French Terry base, which is perfect for a jacket - it has minimal stretch but still that soft Cotton French Terry feel, and just enough stretch to be quite comfortable to run and play in.
Do zippers intimidate you? The Quadra Jacket sewing pattern includes a video tutorial for installing the zipper, to make it super easy!
BUT - if you would still prefer another option...
The collared version (with or without hood) is really easy to hack to use snaps or buttons instead of a zipper!
You just need to add to the front edges for the overlap - the sewing construction is exactly the same.
So, how much do you add, and to which pieces?
You want to add HALF of the amount of your desired overlap, to any of the pieces below that you may be using.
NOTE: I personally would not do the overlap with the color blocked version (upper front and lower front pieces) because the diagonal lines would not meet properly in the center. But if you want to do it, you definitely could!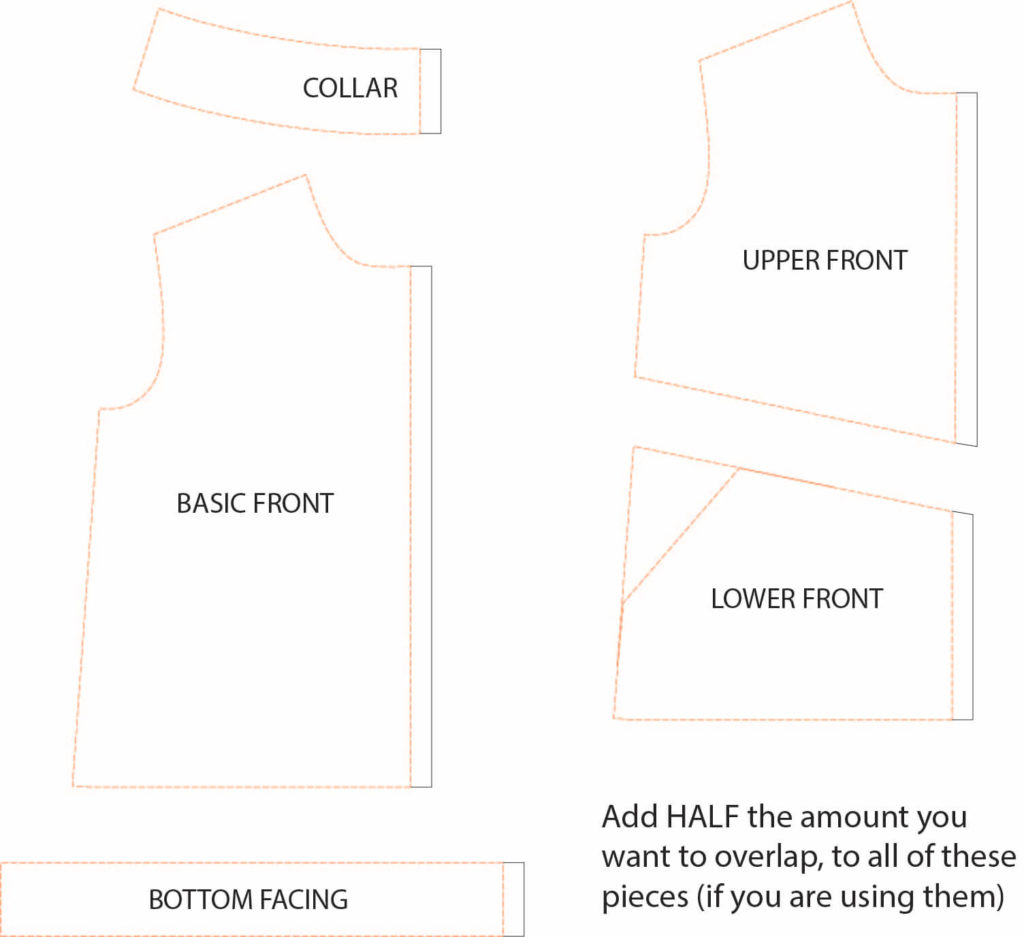 Next, cut and sew as per normal
The only real difference in sewing is that you won't be placing the zipper between the front edges. But you will still be sewing around all the edges.
After sewing, apply the snaps or buttons
Once you have sewn and turned your jacket right side out, you can apply the snaps or buttons. NOTE: Just like the zippered version, you will need to use fusible interfacing to stabilize the front edges if you are using stretchy fabric.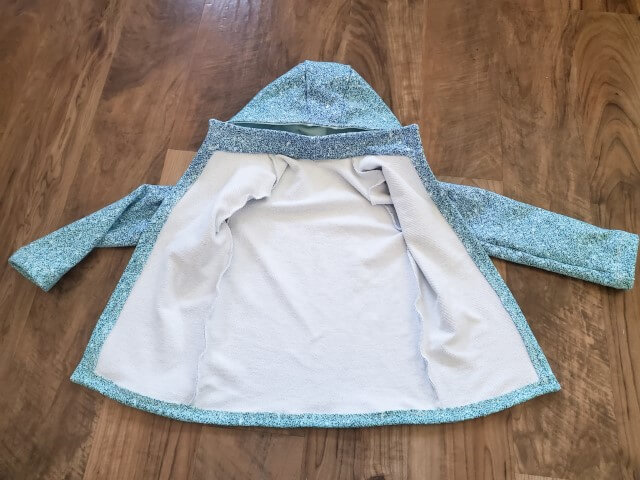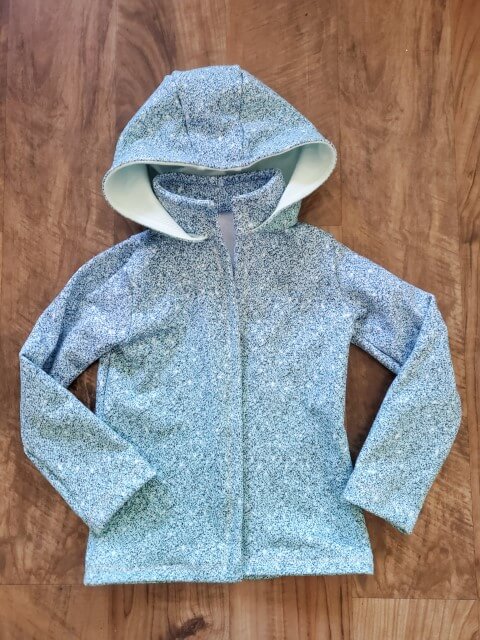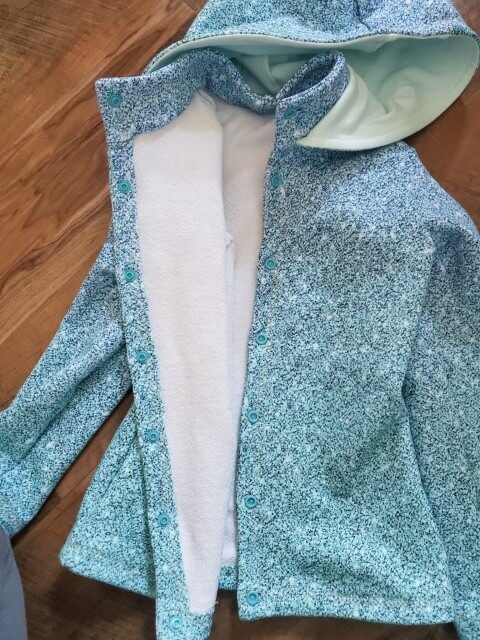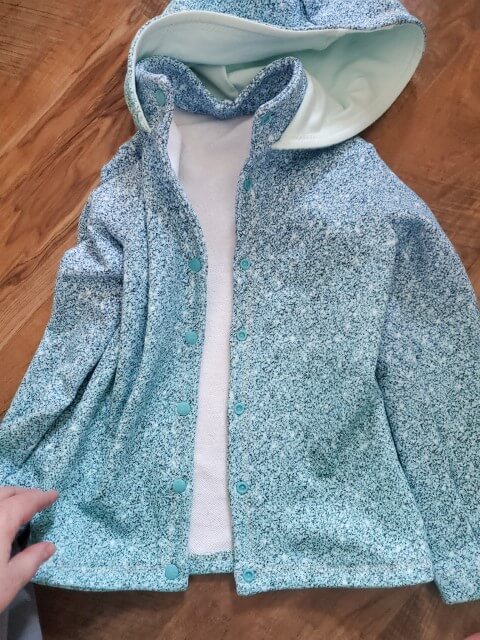 For applying snaps, I added 3/8" (1cm) to the edges of my pieces, for a 3/4" (2cm) overlap.
NOTE IF YOU ARE USING FACINGS: The finished width of the facings is 3/4" (2cm). If you want your overlap to be more than this, I suggest increasing the width of the front facings as well. For a 1" (2.5 cm) overlap, I would add 1/4" (6mm) to the front facing width, so the finished facing width is 1".
Which way should you overlap the edges?
Traditionally, the overlap is right over left for girls, and left over right for boys. But you can do it any way you like!
What if I just want a hood, with no collar?
This option is a bit more complex - you will also need to add the extra amount to the front edge of the hood side and the top edge of the hood center. Then sew as normal. The hood will be a bit larger and will sit like this (image of the retired Campbell Jacket pattern which was designed this way, but had a different fit).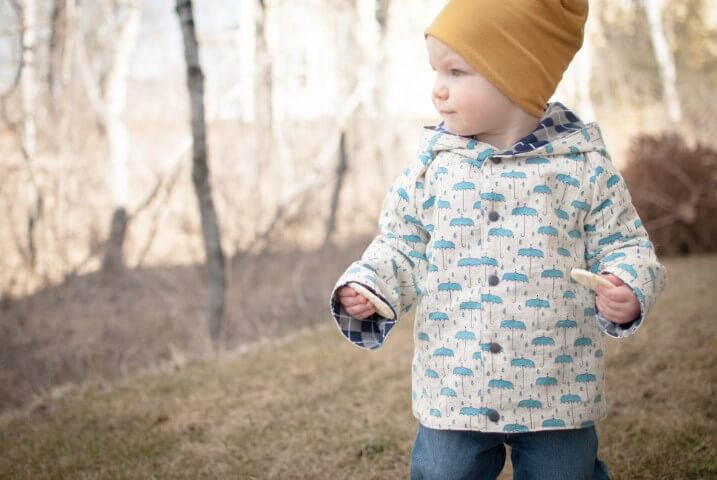 How many snaps or buttons should I use?
This is up to you and your preferences - I like to use a ruler to help me divide them evenly. I used 7 snaps on this size 5 jacket, but in hindsight, I wish I had put two closer together at the collar, then spaced the lower ones evenly from there.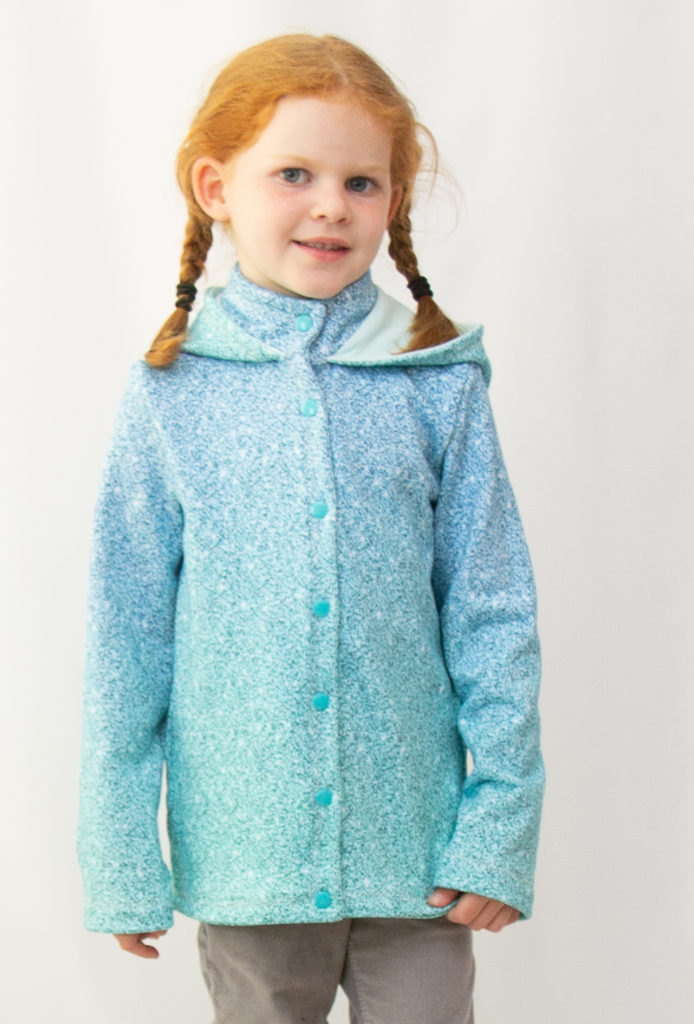 And that's it! If you have any questions about this hack, please let me know. You can use code QUADRASNAPS to get 20% off the Quadra Jacket! Not combinable with other coupons or sales.