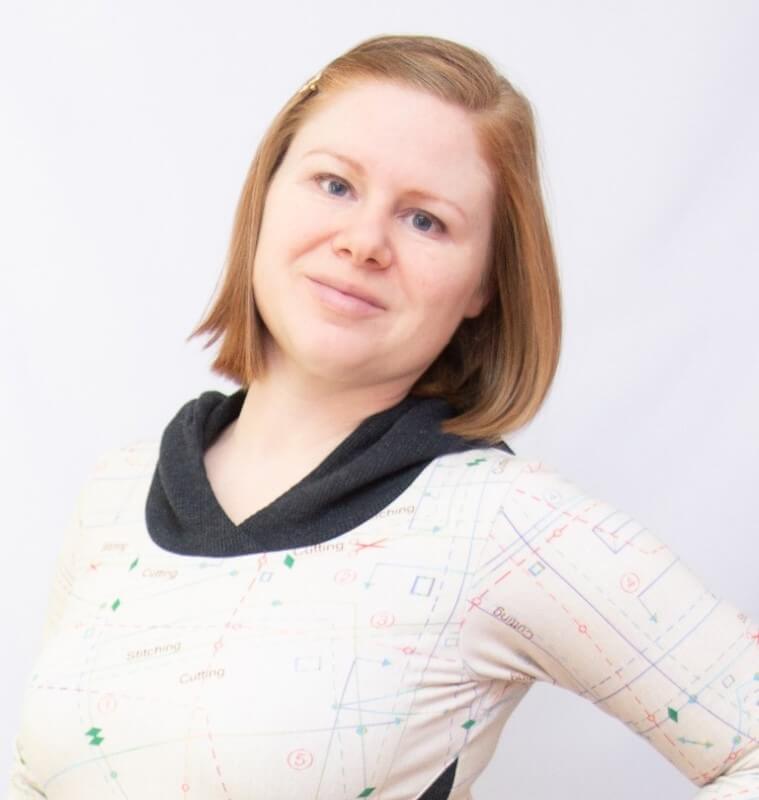 Hello and welcome! My name is Adrienne Currie, I am the owner of Goober Pea Designs, a line of printable PDF sewing patterns. I am a mom of two young kids, and I love to create and sew for them. I especially love to design multi functional pieces (such as reversible or size adjustable) and solve problems – for example, my sleep sacks were designed to prevent my own toddler from removing them at night and getting cold. Many of my items are designed for the colder temperatures, being that our summers here in Calgary Alberta are quite short, and winters are very long.
I got into sewing pattern design after having kids. I had trouble finding patterns for exactly what I wanted to make for my kids (and to sell at craft fairs), so I needed to create them myself. In my prior career I was a travel agent for 10 years, and the attention to detail required for that job is an excellent asset in sewing patterns as well. I like to write my tutorials with plenty of detail and beginner tips, as well as a more concise summary at the end, for advanced sewists.
For anyone that may be wondering, "what exactly is a Goober Pea?" – here is the story behind the name: when I was pregnant with my first child and didn't know if it was a boy or a girl yet, we called him "goober". I don't remember why, but I do know we didn't want to use "peanut" because it was overused…. So, we got curious one day about the origins of the term goober, and that's when we discovered that a Goober Pea was ironically another term for peanut!
I love to sew for my "goober peas", and I hope you enjoy using these patterns to sew for the goobers in your life too!